a pantomime by Alan Frayne…
Our story starts in the Land of Make Believe, the home of all panto characters, from where Poison Ivy, the wicked witch, banishes some of our friends, wiping their memories in the process.  With the help of Fairy Honeysuckle, the characters "try out" parts in six different pantomimes, one per scene, until they find where they belong!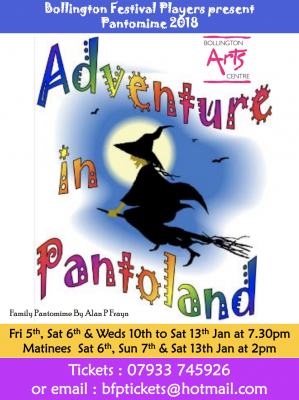 Tickets £10 full-price, £9 concessions, £34 for Family of four (2 adults, 2 children), £38 Family of five (2 adults, 3 children), £2.50 Child under two on knee.
Matinee performances begin at 2.00pm, evening performances begin at 7.30pm.
Tickets can be booked through our online box office via Ticket Source – https://www.ticketsource.co.uk/bfp
If you have any problems or queries please get in touch with Bollington Festival Players (BFP) directly via Facebook at https://www.facebook.com/BollingtonFestivalPlayers or call them on 07933 745926
Tickets cannot be Refunded or Transferred. Tickets reserved for collection on the door must be collected 15 minutes before the performance begins otherwise they may be sold. Strictly no admission after performance commences – please allow yourself time to park. Parking is limited at the venue.
Now you have your tickets for this season's hilarious Panto, why not visit BFP's website and like them on Facebook!