Daisy, Daisy is the latest of many shows written by the Music Theatre's director Donald Judge, based on a true story of a remarkable child…
These tasters allow those interested to find out all about it, free of charge, before committing themselves to join the group. 8-12 is a recommendation: Music Theatre sometimes has younger or older members.
After 34 years with at least 2 shows a year, and then an enforced break of 18 months, Bollington Festival Music Theatre resumed in September 2021, to tell three European folk tales with a twist. In November, parents and family members enjoyed a showcase of what had been achieved, a delightful occasion. Pictured are some of the cast of our last public perfiormance, Buccaneers of the Bollin, at the Bollington Festival in 2019; the group is now building again and looking forward to a Festival show in May 2024!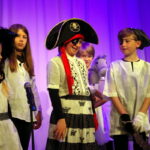 At Music Theatre, children use and develop their skills in drama and music, and broaden their horizons through telling musical tales from
Bollington, around the world, and from history. As always, the latest one is a fascinating one.
Daisy, Daisy begins with the song popular from the 1890s but tells a tale based on the true story of Daisy Bray. Daisy, who would almost certainly have known and sung that song, and could have been one of the children in the photo, was born in London in 1894. Her childhood was spent in poverty with her single mother and brother, partly in a workhouse. When Daisy was 8, her mother was persuaded to let her go to Canada as part of the British Home Children Scheme, with the promise of a bright future. Her brother followed two years later. But parents weren't told exactly where their children were, and the children were forbidden to write home.
Instead of the promised schooling, many became mere domestic servants or farm labourers, often with uncaring or cruel families. Daisy was luckier than most, as she managed at the fourth attempt to find a kindly family. She was able to trace her brother, but she never saw England or her mother again. Eventually, Daisy was asked "Give me your answer, do" and it was YES to marriage to her Canadian sweetheart. She had children and grandchildren, as did her brother. Daisy never complained about her unusual childhood, buy finally told her story to her grandaughter. Daisy, Daisy tells it in a child-friendly and optimistic way.
Whether the group can perform to the public depends on many factors, but at the very least, a showcase for parents will happen at the last session on Sunday 3 April, with costumes, lighting and live music. Once children decide to join, there's a subscription of £15 to cover the rest of the term.
Nobody has to take an audition, and solo parts are decided as part of the rehearsal process.
Bollington Arts Centre has enhanced procedures to ensure everyone is as safe as can be, including from Covid. Children can just turn up – on either or both Sundays – but parents can email bfmt@bollingtonartscentre.co.uk more details and a contact form can be sent.