Dr Johnson, I presume! – Free Taster Session
Sunday 19th January – 2pm – Registration from 1.45pm
Children aged 8 to 12 years can find out about the latest exciting new musical show about the boyhood of Samuel Johnson to be performed at St Oswald's Church on 29th March alongside special guests Wildfire Folk. You might end up playing Sam, Molly, or even the Crow! But all who come to Sunday afternoon rehearsals can play a part in the performance with special guests from Sam's home city, Lichfield.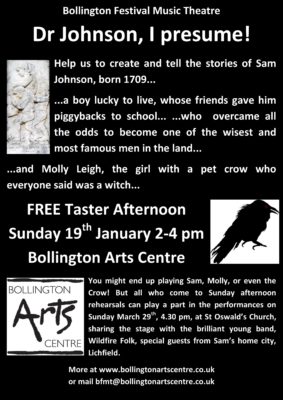 This Taster session is prior to rehearsals commencing for the main show to be performed at St. Oswald's Church, Bollington on Sunday 29th March.
The latest Music Theatre show is about the childhoods of the remarkable Dr Samuel Johnson, Molly Leigh who people said was a witch, and a talking crow… With special guests, Wildfire Folk.
Free Admission