A fabulous Anglo/American group who are on a month long tour of the Britain. They are mostly from New Orleans but have the wonderful Ewan Bleach on reeds as the UK representative.
Formed in New Orleans as a collective of several street performing groups, Frog & Henry perform and record old dance and jazz music from the early 1900's on brass and string instruments, with several singers and vocal harmony. Most of their repertoire was obtained by digging up forgotten songs from the dawn of recorded music, in the form of early dance tunes, and from even earlier 19thC sheet music.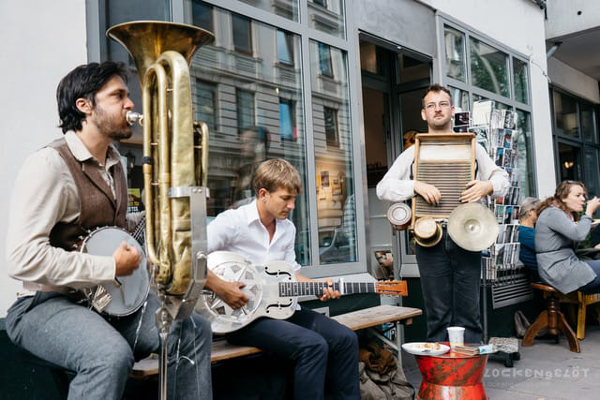 The band borrowed the phrase 'string and brass band' from the descriptions of the earliest dance and jazz bands. And in that tradition they feature violin and mandolin-banjo as melody instruments along with clarinet and baritone saxophone.  They've even designed a foot-operated tuba that allows one person to play tuba and six-string banjo simultaneously!
Some of the Frog & Henry influences include The Dixieland Jug Blowers, Frenchy's Stringband, Lionel Belasco, Leecan & Cooksey, Sara Martin, King Oliver, Johnny Dodds and others (click on links to listen).
Bollington Jazz Club tickets are £10 only available from 01625 574410. Theatre-style seating, bar with Bollington Brewing Co. real ale on draft and wine sold by the bottle or glass. Doors at 7pm, shows start at 8pm. All profits from this event go to Bollington Arts Centre.