Old Red Eyes
Old Red Eyes is an acoustic, solo tribute to the songs and sound of Paul Heaton of The Beautiful South, The Housemartins and solo fame.
As a sideline of leading the highly successful full band tribute, The Southmartins ("They're really good" – Paul Heaton), Andy has developed a soulful, energetic and playful solo show which packs in the hits and bits of The Beautiful South and the Housemartins and keeps the audience involved, singing and dancing throughout.
With a voice as close as you could hope for without it being the man himself and distinctive acoustic versions of the classic songs . Expect Happy Hour, Build, Song For Whoever, I'll Sail this Ship Alone, Good as Gold and many, many more if you're a fan you're in for a real treat. Andy has played across the country with The Southmartins including The Kings Arms in Salford, which Paul Heaton owned at the time, as part of the launch weekend for Paul and Jacqui's comeback album "What Have We Become", returning many times since.
Why not visit Andy's Facebook page, Twitter feed. You can also listen to his music on Soundcloud?
Amelia Coburn
With a voice set to stun with a gift for interpretation that is second to none, Amelia Coburn spends every spare moment rifling through records and filtering the findings through her punky ukulele playing to wow audiences across the North East and increasingly beyond. Think Eva Cassidy if she had spent the whole of 1976 in CBGBs. To categorise what she plays would be futile but her main influences range from classic, sophisticated pop/rock (David Bowie, Kate Bush, early Elton John) through to Punk, New Wave and the first wave of Indie music (The Smiths, The Jam, Blondie) but she is constantly seeking out hidden gems to drop like lovely bombs on her audiences.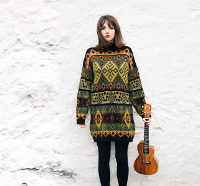 Her first forays into writing original material have shown she has a keen ear for a beguiling melody and lyrics. Themes of "The Sea" pervade and there is a folky, dreamlike quality to her own songs and have been played on BBCRadio6 and BBC Radio Tees who have called her 'Teesside's Princess of the ukulele'.BBC Radio 2 Young Folk Awards Nominee 2017 Amelia Coburn regularly plays with Andy, occasionally and spontaneously, joining him on stage to jam to one or two of the fine songs from his repertoire.
"Absolutely genius" – Tom Robinson from BBC 6Music
"She's Wonderful" – Jacqui Abbott from The Beautiful South
"Nice!" – David Gedge fromThe Wedding Present
Why not visit Amelia's website, BBC Music site, Facebook page and Twitter Feed. You can also listen to Amelia's music on Bandcamp and her YouTube channel.