Persuade from the Stage – Bollington Business Forum
This is one of a series of facilitated discussions for local business owners, based around the theme of verbal communication. Somewhere between a workshop and a networking event, these sessions are designed to help business people promote themselves in a more confident and effective way, and develop skills which can be used in all walks of life.
Supported by the Bollington Business Forum, these events are hosted by Andrew Thorp, a professional speaker, brand storytelling consultant and Bollington resident.
There is no entrance fee as such for these events; instead attendees are asked to make a donation to the Bollington Festival fundraising campaign (a minimum £10 contribution is recommended).
Click here for link to donations page.
Booking is essential at EventBrite.
After a successful opening session in November 2018 about Verbal PR/storytelling our next session on 8th Feb 2019 explores presenting skills.
Persuade from the Stage (how to connect with your audience)
This is a re-creation of a theme Andrew first launched about a decade ago – Speakeasy. No, not an elicit drinking den in Prohibition America (one meaning), but a way of helping people with something to say to communicate with more confidence from the stage. It's a rare opportunity for 3-4 people to test-drive a message in front of an audience. You create a safe environment, give each presenter 5 minutes or so to deliver their talk to a group and invite that group to give feedback. Don't worry – we only ask pre-arranged volunteers to do this! But it's a rare and extremely valuable opportunity to improve a pitch you might have to give – about your business, your charity, your idea, anything where it matters how persuasive you are.
Format (event lasts approximately 2 hours) 
Open networking with light refreshments served
Welcome from the facilitator – introductions
Presentations and feedback
Summary and close
Booking is essential at EventBrite.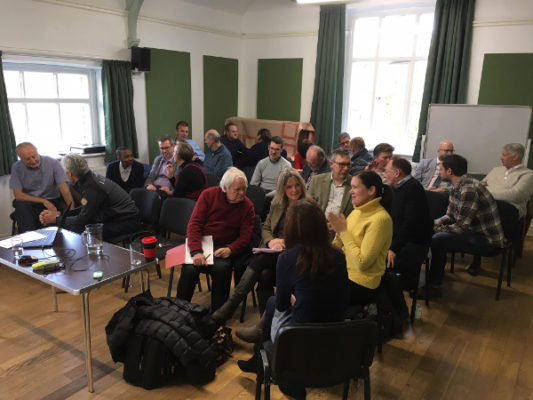 About the Bollington Business Forum 
The two main purposes of the Forum are:
1) to bring people with business interests in Bollington, Cheshire together; and
2) to support business growth and employment opportunities in Bollington and the surrounding area. The group is part of a range of business support activities co-led by its members and supported by Bollington Town Council.
Booking is essential at EventBrite.