Bollington Festival Music Theatre present Rainbow to Rainow, a brand new musical play to delight all ages. In Victorian Bollington, the dreaded schools inspector is on his way. The children must answer his question 'What is a Rainbow?' To find out, they follow one, all the way to far distant Rainow!
Sunday April 2nd 2.30pm and 5.00 pm Tickets £7.00 and £3.50 for children on the door.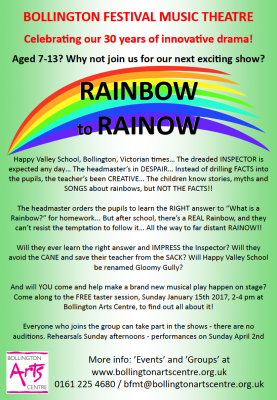 BFMT is Cheshire's unique performance group for seven to thirteen year old children, which stages two shows per year. The group would be delighted to welcome new members for this show. A free taster session to read through the script and try out the songs will be held on January 15th between 2pm and 4pm. The children will not be asked to audition to be part of this wonderful show. More details at http://www.bollingtonartscentre.co.uk/groups or by calling 0161 225 4680.